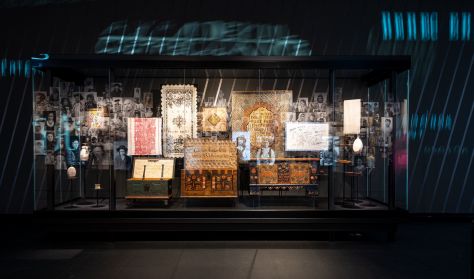 3
Tárlatvezetés - ZOOM /Guided tour - ZOOM
A tárlatvezetések Zoom belépőjeggyel vehetők igénybe.
A vezetések csoportosan indulnak.
Nincs aktuális előadás
Ön egy múltbeli eseményre keresett rá. Kérjük, válogasson aktuális kínálatunkból a Jegy.hu keresőjében!
Last event date: Tuesday, November 28 2023 10:30AM
A Néprajzi Múzeum Erdős Kamill, az "álruhában járó legendás kutató" munkásságát bemutató Istennel talállak, testvérem! – Cigány történetek című időszaki kiállításához kapcsolódóan egyedülálló programsorozatot hirdet. A kiállításban a párhuzamos valóságok témája a roma/cigány közösségek ábrázolásának vonatkozásában jelenik meg.
Vajon milyen egy éjszaka a bezárt múzeumban, mi történik lámpaoltás után a tárgyakkal? Most itt a lehetőség, hogy a saját szemeddel győződj meg róla. Gyere és tölts velünk egy izgalmas éjszakát a Néprajzi Múzeumban! Diákcsoportoknak és családoknak.
I find thee with God, my brother! – Gypsy stories
ZOOM - A Change in Perspectives
Mézeskalács-sütés /Advent a Néprajziban. Látogatóinkat 2 db ünnepi mézeskalácsuk megsütésében Seregély Mirtill mézeskalács-készítő vezeti.Játékos csalinkázás a Néprajzi Múzeum kiállításaiban családok…
Yanomami. Spirits. Survivors. Photo exhibition of Claudia Andujar
Warning! The basket time limit is about to expire!
estimated time left:
00:00
Time limit has expired. Please, put item(s) in to basket again.
---